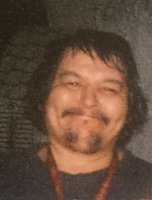 John Baptiste Dorion
John Baptiste Dorion, better known as CJ was born October 29th, 1963 in Cumberland House, SK. John left this world to go be with his loved ones on December 12th, 2017.
John received his education in Prince Albert, SK. Also at the Charlebois Community School.
John loved spending time with family, friends and especially his grandchildren. John enjoyed playing crib and playing bingo.
John leaves behind to treasure his memories; his sisters Lily, and Gertie Dorion, brothers Benjamin, Bobby, and William Dorion. Nephews Redman (Nikki) Austin, Dannis, Daniel, Redman Jr., Raymond Dorion, Glen, Jonas Budd. Nieces Wanda, Debbie, Joyce Budd. Aunties Mary McKenzie, Hazel, Sylvia, Nancy Mink. Cousins Gabe Dorion & Family, J.B. Dorion & Family, Maurice Dorion & Family, Arnold Dorion, all the Dorion families in Pelican Narrows, SK. Dorions, Buck & Nabess Families of Cumberland House, SK, his special friends Edward & Winnie Cook.
We the Dorion Family will be forever grateful to Bonnie Dussion who without any hesitation would walk to the Victoria Hospital to go care for our brother John. She kept John at her place to help look after him for 2 weeks.
John is predeceased by his parents Gabriel & Mary Dorion, his siblings Nancy, Rod, Charlotte, and Gus. His Grandparents; Henry & Mary Jane Dorion, Andrew & Bella Pelly, Zacheus Pelly, Mary Ann Pelly, Stanley Pelly, aunties; Katie Budd and Katherine Cook.