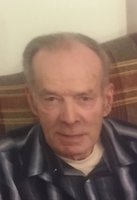 William Bernard Rempel
William (Willie) Bernard Rempel was born in Nipawin on April 15, 1937 to Bill and Mary Rempel of the Cherry Ridge district near Nipawin, Saskatchewan. Willie was the fourth of five children in his family. He grew up on the family farm and attended the one room schoolhouse in Cherry Ridge.
Willie began high school in Nipawin but soon decided to pursue his passions in the shop and on the Rempel family farm. The family incorporated Rempel Farms in the 1960's and Willie farmed with two of his brothers, Herman and Don, for many years.
Willie was a talented "fixer" of machinery. He was also quite an inventor and innovator. Willie built a four-wheel drive tractor and loader from existing tractor parts and a custom welded frame and cab. He was known not only for his ability to repair equipment, but to improve upon the functionality of anything he worked on.
When the brothers decided to farm on their own Willie set up a shop and yard site with some cattle. His shop and farm were a model of self-sufficiency and innovation. Willie helped many neighbors with their equipment repairs and welding projects and was never afraid take on a challenge making the best uses of his skills and resources.
Willie met Theresa Hetu and they lived together on his farm raising Theresa's son David. Willie and Theresa maintained a large garden, which gave them much joy, as did spending time visiting with family and friends.
Willie strived to live a simple and holistic life and did not have much use for the practices of traditional "western" medicine. He was very fit and healthy and tried to live off the land as much as possible enjoying his home and shop.
Willie had a great sense of humour, which was a bit understated or "dry". He enjoyed frequent visits from his brother Don and regular visits with his nephews, neighbors and friends.
Willie passed away on December 13, 2017; he was predeceased by his parents Bill and Mary Rempel, his partner Theresa and son David, siblings Joyce (Harvey) Newman, Fraser (Cathy), Herman (Glady) and Don. Willie is survived by his sister-in-law Myrtie, his admiring nieces and nephews, relatives, neighbors and friends.