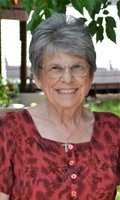 Betty Ann Burningham
Betty Ann Burningham was born on Feb 4, 1935, to Harold and Amy Barlow in Vermilion, Alberta. She grew up on the family farm in the district of Buffalo Coulee. After completing her grade 12, she trained at the U of A as a registered nurse, graduating in September of 1957.
In December 1957, she married Ken Burningham and they moved to Brandon, Manitoba. Shortly thereafter, they moved to Winnipeg where they welcomed their first son. In 1962, their second son was born and they moved to Chilliwack, BC. Their next move was to Halifax where they welcomed their daughter in 1964.
In 1967, they moved to Saskatoon where mom continued her nursing career at RUH. In 1970, Ken and Betty moved to Arborfield and she resumed nursing at the Arborfield Union Hospital. While at the hospital she served as director of nursing until her retirement. Mom was very involved in the Church of the Ascension and for years worked at Camp Okema as a nurse and a cook.
Mom's passion was cooking. There was not a birthday that went by without mom making an angel food cake for the birthday person. The clergy of the deanery always looked forward to the gourmet meals that she would prepare. Another, passion was gardening. All you have to do is take one look at her raspberry patch which started off as one bush, and has just about taken the whole backyard.
Betty was predeceased by her husband Ken, her brother Stan and tragically two of her children Kirby and Shaun.
She is survived by her son Kevin and his wife Donna (Graham and Lauren), her daughter-in-law Diane (Kenneth, Sarah, Amy) and granddaughter Stephanie, her great-grandchildren Gabriel and Emily, her sister Katharine (Stu), her brother-in-law Bill and numerous nieces and nephews.