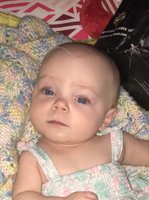 Izabella Kinsley Federuik
Izabella Kinsley Federuik was born 5 weeks premature in Kindersley, SK on January 21st, 2019. She was strong right from the beginning weighing only three pounds one ounce. After spending a month at the NICU in Saskatoon, Tayrell and Izabella were able to go back to Kerrobert. Eagerly awaiting their arrival was big brother Ryker, grandma Mel, Justin, and great papa Randy. Izabella was a very quiet and content baby. She brought joy to those around her. Papa Randy nicknamed her Sasha right away. She loved when papa would rock her while in her bouncy chair. Whenever Izabella saw grandma Mel, she always had a huge smile on her face. Whenever grandpa Sheldon could see her on facetime, he would say how beautiful Izabella's eyes were and she always had lots of smiles when she heard his voice.
Casey came into Izabella's life when she was two months old, and he loved her as his own. Izabella and Ryker loved the many walks to the park with Casey and Tayrell. Casey spent lots of time with them and I'm sure Izabella knew Casey as her daddy. Uncle Taylore holds many special memories that are dear to his heart. Izabella was uncle's little peanut. He would pinch her cheeks, and she would coo and have a grin from ear to ear.
Izabella loved playing with her big brother Ryker. He would share his trucks with her and give her kisses on her cheek. Izabella loved her fur babies Blaze, Mitsy, and Abby.
Tayrell would like the following to be shared about her little girl. "She was a beautiful lovely young lady of 6 months. She brightened up my life so much and changed it in ways I didn't know was possible. The last 24 hours without you my beautiful princess have been tough, the worst… I hate every minute of not hearing you giggle and I miss your pretty little smile so much. Your momma's little angel and I hope you are watching down on me because I'm sure watching for you. I wish I could have one last kiss from you. I miss you so much my little girl. You were my little princess. I love you so so much my girl. Please rest easy my beautiful ray of sunshine."
In addition to Tayrell and Casey she is survived by her brother Ryker, grandma Mel and Justin, grandpa Sheldon, uncle Taylore, great grandparents, aunties, uncles, and numerous cousins, and other relatives and friends who loved Izabella very much.