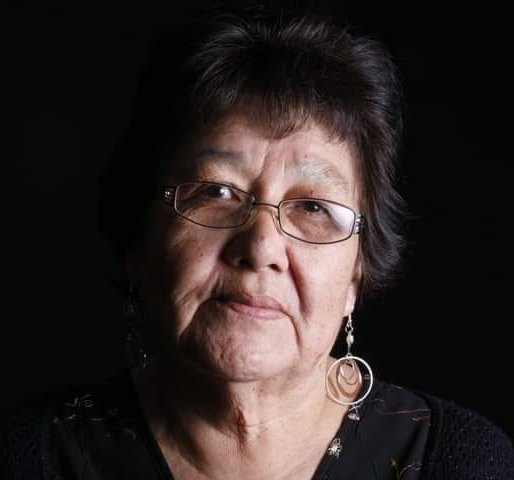 Obituary of Maria Jane Fiddler
Please share a memory of Maria to include in a keepsake book for family and friends.
Pastor Maria Fiddler was born on February 9th, 1947 to Peter and Margaret Buck in Cumberland House. Maria married Marcel (Chepee) Fiddler on January 24th, 1968. They were blessed with two children: Rene (Carla) Fiddler and Chrissy (Ralph) Settee. Maria had ten grandchildren: Drew, Mathew, Danielle, Maria, Marcel (Chepee), Kari, Rayna, Marcie, Sharon, and J.B. Kari lived with her 'nanny' for 9 years up to her passing. Maria had a close relationship with her granddaughter Rayna and they spent a lot of time together during holidays and school breaks. Maria also spent time daily with her sister Valendie and would go for 'sleepovers' at the Portage. She also enjoyed the company of her sister in law, Madeline Buck.
In 1978, Maria began attending the Northern Teacher Education Program in La Ronge, SK but had been teaching since 1971. In 1989, she moved her family to Saskatoon to attend the University of Saskatchewan to complete a 4-year Bachelor of Education degree. For 36 years, Maria taught for the Northern Lights School Division up to her retirement in 2007. She continued to perform many roles at the school including substitute teacher, administration, Elder, and advisor. She had a heart for children and especially enjoyed teaching high school students.
While living in La Ronge, she met Phyllis Robertson who introduced her to Jesus. She committed her life to the Lord Jesus Christ in October 1980 and often referred to it as her 'spiritual birthday'. She returned to Cumberland House with her new found faith and would proceed to lead her parents, brothers, sisters and their families to the Lord. Her husband Pastor Marcel Fiddler became the Senior Pastor of the Christian Fellowship Center in the early 80s. In September 2010, following the passing of her husband, she took on the role of Senior Pastor and continued to do the work of the Lord. Over 39 years, Pastor Maria dedicated numerous children with admonition for parents to bring up their children in the ways of the Lord.
When it came to professing her love for God, she was unashamedly vocal and passionate about God. She organized many tent meetings and victory walks throughout the community proclaiming the gospel. She could often be found sitting in the church preparing for her next sermon. She loved her congregation and would often refer to them as "sheep". Her Facebook posts reminded everyone of midweek Bible Studies and Sunday morning services; even during her hospital stay, she continued to encourage people to faithfully attend church and to pray. Her door was always open to visitors. Many young and old will remember Pastor Maria and the impact she had on their lives.
She was very young at heart and kept herself busy working at home, church, community and the school. She loved her community and discovered technology was a great way to spread the word using every opportunity to share the Good News. She especially enjoyed box socials and creating special boxes to contribute to causes. She was quite involved in cultural week festivities and other community events. She hosted barbecues for her congregation and wiener roasts for the children. She was known for her baking and especially her 'Billy Goat pies'. Maria enjoyed spending time with her nephew, Aaron. They would go for drives around the island and have visits listening to gospel music.
Many people visited Pastor Maria during her hospital stay. She was always so grateful for each of them mentioning their names to whomever came by. Pastor Maria left peacefully at Royal University Hospital the morning of May 13th, 2019. She was surrounded by her children, grandchildren, sister, brother in law, nieces, nephews and close friends. Many people were special to Maria; the family would like to make special mention of Marie Mckenzie whom she mentored for many years, Lloyd Cook her neighbour across the street who did chores for her, and Harvey Buck who assisted at the church on Sunday mornings, Other special mentions include: Elaine Crate, nurse Colleen, Michelle Laliberte, auntie Louisa Buck, cousins Mabel Bignell and William (Shorty) Lathlin, Bev Cheechoo & Bertha McKay.
Maria leaves to mourn her children, grand children, sister and brother in law, nieces, nephews, cousins, congregation, and friends. She also leaves to mourn relatives from the Fiddler side. Maria was predeceased by her husband Marcel Fiddler, parents: Peter and Margaret Buck, in-laws: Walter and Mary Fiddler, brothers: John, Donald, Pierre, Charles, sisters: Vina, Barbara, Joanne, Lucy and Rachel, in-laws: Horace Morin, Roy Fosseneuve, John and Carey Fiddler, Ray Carriere, Donald Chaboyer, nephews: Brian Morin (Atchoose), Edward (Eddie) Morin, Randy Morin, Peter James (PJ) Fosseneuve, Clyde McCallum, Christopher Greenleaf, Gordon Buck, nieces: Lorraine Chaboyer, Kristin Fiddler, Pearl Morin, Bernadette Fosseneuve, Belinda Morin, Joanne Fosseneuve, Charlotte Azure, Joan Fiddler, Julie Constant, uncles: Charlie Lathlin, William Lathlin, William Fiddler, cousins; Bella Ranville, Lucy Dumais, Joshua Lathlin, Alex Lathlin, Johnny Lathlin, Myra Buck, William Buck, Joshua Buck and Albert Buck.
Share Your Memory of
Maria
Heritage Funeral Home - Nipawin
901 Nipawin Road East
​
​Mail to Box 3400
Nipawin, SK
S0E 1E0

Phone: 306-862-3979
Email Us
Tisdale Funeral Home - Tisdale
916-111th Ave
​Mail to Box 3400
Tisdale, SK
S0E 1T0


Phone: 306-873-4077
Email Us