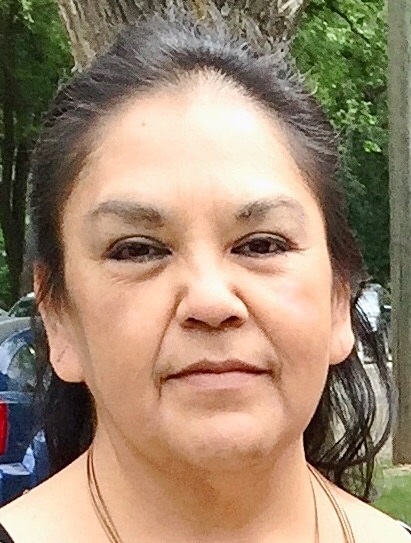 Obituary of Phyllis Bignell
Please share a memory of Phyllis to include in a keepsake book for family and friends.
Phyllis Fosseneuve was born on October 30th, 1966 to Roy and Lucy Fosseneuve in Cumberland House, SK. Phyllis was also lovingly known by her nickname 'Spin'. Phyllis was blessed with four children: Christopher (Jarah) Fosseneuve, Mitchell Bignell, Trista Bignell, and Taylor Bignell. Phyllis had 8 grandchildren: Izabelle "Izzy", Jahayla, Avery, Kianna, Caleb, Collyns, Dante, and Ara. Phyllis had seven sisters: Lorraine, Dianne, Noreen (Perry), Treena (Rob), Andrea (Angus), JoAnne, Candace, and four brothers: Melvin, Elmer (Melissa), Aaron and Jason (Crystal); auntie Valendie (Alan) whom she loved spending time with visiting and drinking tea. Phyllis enjoyed a lifelong friendship with Hazel (Walter) Sewap. Phyllis expressed gratefulness for friends -Cheryl "Girl" Bignell, Joy Joachim, Richard McKenzie, and Jimmy McGillvary.
Phyllis had a tremendous love and connection to her grandchildren. It was her love for them that sustained her through many difficult battles in life. She could be found sitting with them in her living room or out on the deck. She spoke often of her grandchildren, those near and far. She raised her granddaughter Izzy for a time and both remained very close to the day of her passing. She was also a very loving mother to her children. They knew that they were loved by her. She spent a lot of time with her daughter, Trista. Together they would make their trek around the city for appointments and there were many. Trista cared for her mom leading up to her passing.
Phyllis moved to Saskatoon, SK in the early 80s and lived there most of her life. She also lived in Edmonton, AB from 2006-2013. Phyllis attended a number of different schools. Phyllis received her Life Skills Certificate in 1988. She also received her Adult 10 certificate from SIAST in 1992 and took a Wellness Certificate Program in Saskatoon in 2001. Perhaps her most memorable academic achievement was when she attended NAIT College in Edmonton, AB in 2009-2010. She 'proudly' graduated with a Certificate credential from the Youth and Family Program alongside her daughter, Trista and son, Christopher. People were drawn to Phyllis. Her warm and compassionate nature led her to pursue jobs working with people. She was employed with the Women's Emergency Accommodation Centre, McGillvary Care Home, and Kipness Centre for Veterans.
Phyllis had a close relationship with her dad, Roy. She would make him bannock and would always giggle as she remembered how he would always say, "you make the best bannock my girl". She giggled because she knew he would say that to all of us. Though I think we would all agree that she did make the best baked and fried bannock. Our family has a lot of memories with Phyllis but there is one thing that is common to them all, her gentle nature and acceptance. Ask any one of her nieces and nephews about her and they can tell you how she made them feel loved. She was close to her siblings. Her brothers would often lovingly tease her and such was their relationship. She had a deep unbreakable bond with her sisters. In her youth, Phyllis helped care for her cousin Felicia and they were bonded like sisters. She will always be remembered as one who loved and was loved by many. Those who knew her best often said of her that you could never stay mad her, you simply had to love and support her. She was very forgiving and through her life taught us to do the same.
Phyllis passed away unexpectedly the afternoon of Wednesday, October 16th, 2019 at the age of 52. Phyllis fought a long and difficult battle with diabetes neuropathy and other related complications. She will be sorely missed by her family and friends who loved and knew her. We can only imagine what the heavenly reunion was like when she slipped into eternity. She unwaveringly clung to the promise of eternal life and would often talk about seeing her family, especially longing to see her son, PJ. Our loss is heaven's gain. Till we meet again, Spin.
Phyllis leaves to mourn her children, grandchildren, brothers, sisters, nieces, nephews, aunties Valendie and Madeline, cousins, in-laws and many friends. Phyllis was predeceased by her parents: Roy and Lucy Fosseneuve, grandparents: Peter and Margaret Buck, Gordon and Katie Fosseneuve, son: Peter James (PJ) Fosseneuve, sister: Lorraine Chaboyer, Joanne Fosseneuve, brother: Trini, auntie and uncle: Rachel and Horace Morin, uncle: Charles Buck, uncle and auntie: Pastors Marcel (Chepee) and Maria Fiddler, sister-in-law: Bernadette Fosseneuve, cousins: Brian (Atchoose) Morin, Edward Morin, Randy Morin, Pearl Morin, Gordon Buck, Belinda Morin, Clyde McCallum, and Kristin Fiddler, childhood friends: Lorraine Crate and Norma Crane.
Share Your Memory of
Phyllis
Heritage Funeral Home - Nipawin
901 Nipawin Road East
​
​Mail to Box 3400
Nipawin, SK
S0E 1E0

Phone: 306-862-3979
Email Us
Tisdale Funeral Home - Tisdale
916-111th Ave
​Mail to Box 3400
Tisdale, SK
S0E 1T0


Phone: 306-873-4077
Email Us