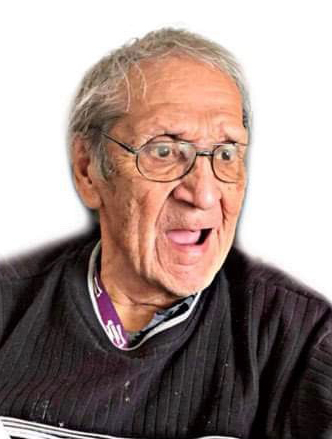 Obituary of Oliver Thomas
Please share a memory of Oliver to include in a keepsake book for family and friends.
Oliver "Ollie" Francis Thomas was born in May, 1941. He passed away on Saturday, March 12th, 2022, at the age of 80 years, at St. Paul's Hospital, Saskatoon, Saskatchewan with his loving family by his side. Ollie was born and raised in Cumberland House, Saskatchewan to beloved parents Nancy and John Thomas. He was one of 12 siblings who brought much joy to family, friends and relatives. He married the love of his life Marie-Alma Cook in October 26, 1962 and they were blessed with five children: Philomene, Robert, Maureen, Pamela and Delphine Carriere. A caring and loving father, grandfather, great grandfather, brother, uncle, relative, friend, community member, and respected Elder, he was a beacon of light to everyone who knew him. Ollie was a respectful and compassionate man who would often speak his mind when things were compromised. While he was an avid outdoorsman in his earlier years who loved hunting, fishing, trapping, guiding and wood cutting, he excelled in carpentry, building many things, renovating and building cabins. Ollie was known by everyone as a comedian, making people laugh with his stories. His humour was welcomed in his many circles. He loved living at his little cabin at Fur Lease during the Spring and Summer months. Up until recently at the age of 80 years old, Ollie was seen chopping wood and stacking them for firewood to heat his home. Oliver loved cooking and was an avid bannock baker, often showing his granddaughters his techniques and secret recipe. To fill his time in the evenings, he often played radio bingo inviting his nephews to keep him company. In their latter years, Oliver and Marie filled their home with grandchildren, raising many as their own. Until her passing in 2019, Marie and Oliver helped their grandchildren with the care of great grandchildren. The love and compassion Oliver embodied was evident in how he spoke about each one that brought much life and delight into his life. Left to cherish his loving memories are his daughters: Philomene Thomas, Pamela Thomas (Henry Halkett), Delphine Carriere; grandchildren: Roxanne Stewart (Jon), his Chessy girl, Chelsea Buck (Alex), Lynn Thomas, Kristie Thomas, Lori Thomas, Alvin Thomas, Edward Thomas, Regan Thomas, Robert Thomas, Reanna Halkett, Geraldine Carriere, Chad Carriere; special great-granddaughter: Draya Goulet (Jaiden); great-grandchildren: Jandin Thomas, Dayley Stewart, Dahesha Stewart, Dessah Stewart, Storm Thomas, Joanne, Janay, Janeava, Jenevieve Stewart; Ayeisha Buck, Colton Buck, Vaeda Buck, Hardin Buck; Jerilynn Settee, Jr. Settee, Jerilee Settee; Brody Ratt, Jensen Thomas, Ciarra Ratt, Jamie-Lynn Thomas; Tzaih Maurice, Trystin Thomas, Kryrin Thomas, Victoria Laliberte; Caydence Morin, Caydence Morin, Kaidy Morin, Kristine Goulet, Charlotte Goulet, Christian Goulet; great-great grandchildren: Ciara Thomas, Ezariah Joan Deschambeault; brothers: John Thomas Jr. (Elizabeth), Daniel Thomas Sr. (Barb), William (Barb Finlayson); sisters: Jean Fiddler, Ada Laliberte, Patricia Helen Koller (John), Barb Sauve (Ernie); sisters-in-law: Isabel Thomas, Cathy Cook, Joyce Cook; son-in-law: Laverne McKay; brothers-in-law: George Cook, Ricky Cook, Adam Cook, Clarence Cook, Joe Cook; many nieces and nephews, great nieces and nephews, relatives, and friends. Oliver is predeceased by his wife: Marie Thomas; parents John and Nancy (Budd) Thomas; his in-laws: Baptiste and Louisa Cook; sister: Mabel Dorion; brothers: Angus Thomas, Roderick Thomas; his son: Robert Thomas; daughter: Maureen Thomas; granddaughters: Joslyn Thomas, Jamie Carriere; grandson: William Buck; nephews: Jonathon Thomas, Preston Cook, Arthur Dorion Jr., Raymond Laliberte, Shellie McKenzie, Olivia Laliberte; brothers-in law: Henry Cook (Julia), Tom Cook, Arthur Dorion; sisters-in-law: Hilda Thomas, Helen Cook, Flora Cook; aunties and uncles: Maria & Zaccheus Young, Mary & Walter Fiddler, Katie & Simon Pelly, Christine & Albert Mann, Flora Settee, Mary-Jane Thomas, Angus & Margaret Thomas, Mathew Budd Tom Budd; his best friends: George McAuley (Florence), Cyril Roy. The family expresses their deepest gratitude in your support, prayers and outpouring love at this difficult time.
Share Your Memory of
Oliver
Heritage Funeral Home - Nipawin
901 Nipawin Road East
​
​Mail to Box 3400
Nipawin, SK
S0E 1E0

Phone: 306-862-3979
Email Us
Tisdale Funeral Home - Tisdale
916-111th Ave
​Mail to Box 3400
Tisdale, SK
S0E 1T0


Phone: 306-873-4077
Email Us