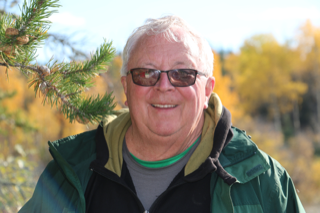 In Memory of
Patrick William Roy Miskiman
1941 - 2017
Obituary of Patrick Miskiman
Patrick William Roy Miskiman – A Life Well Lived
Just Another Farm Kid
Pat was born in Broadview Saskatchewan on July 12th, 1941, the eldest son of Charles Leon Roy and Stella Mary (Wyatt) Miskiman. He was always very proud of his Irish heritage and small-town roots and never forgot where he came from. Stella chose the name Patrick because she loved it, and William Roy came from his father Roy and Roy's brother Bill.
For most of his education, Pat attended Spring Lake, a one room country school, travelling there and back behind a horse winter and summer. Being a farm boy, he could multi task – milking, haying, berry picking, and sawing timber all in the same day. He even begrudgingly tended his mother's flock of sheep – even though he hated it - but for his mother he would pretty much do anything. It was while doing one of these tasks at age 15 that he suffered a tragic sawmill accident that severed his entire right thumb and half of his left thumb. They were able to re-attach the right one, but unfortunately the left thumb was too damaged to be replaced, leaving him a with a great prop to help tell crazy stories to his kids and grandkids over the years, and torment them with "The Claw!". For quite a while after the accident he had huge bandages on both hands, but he said the only time he felt uncomfortable was when he had to ask someone else to zip up his fly.
He couldn't do very much around the farm while he healed, so he decided to learn to play the banjo, proving there is always a silver lining to every cloud. Unfortunately, he didn't have any money to actually purchase a banjo, but one of the neighbours had one, so Pat asked if he could borrow it for a while. The neighbour, not being much of a musician, told Pat that "If you can learn to play it, you can keep it!". That banjo was the one Pat kept and played for his entire life. He always thought it was just a junk banjo, until it got a well-deserved retrofit in the 1980s. Turns out it was a very rare 1921 Ludwig Dixie, not that it mattered to Pat, but he finally figured out why it sounded pretty good.
His father Roy was a musician who played the accordion, so with Pat providing the rhythm they were soon playing for country dances all over the area. He played in wider circles in neighbouring communities with his cousin and accordionist Dan Petrie, and along with Dan was also part of a community band called The Caporals who competed in talent shows, played dances, and appeared on local television.
He attended the country school in Spring Lake until the end of Grade 10, taking his high school classes by correspondence with the help of the teacher at the time. He attended Broadview High for Grade 11 and 12, impressing all the teachers by getting honors in both years. He also impressed quite a few of the girls, especially a little blonde one named Jean. He was part of the school's music group – of course – but years of milking cows gave him some pretty good arm strength, so he played on the school's baseball team and was quarterback of the football team, where he was also nominated as captain. In his grad year, he was further honoured by being elected President of the Student Council. Pat graduated from Broadview High in 1960 and set off to find his fortune in the world!
Making a Career
Right out of school Pat was employed with the local branch of the Bank of Commerce. He had to get used to wearing a white shirt and tie every day, but he was finally getting a steady paycheque and was earning the princely sum of $125 …. a month! Transfers to Brandon and Port Arthur branches followed but Pat finally had to resign, not really liking the whole "banking" business. For a while he thought about becoming a sailor because when they disembarked at port their cheques were three times as much as what he was making. Luckily for all of us his heart ruled his head and he decided to get closer to home and back to that little blonde girl named Jean.
Returning to the Broadview area, he worked as a grain buyer for the Saskatchewan Wheat Pool, but after a while some folks in the Credit Union system saw his potential and offered him the position of Manager of the Tugaske branch. Tugaske was a beautiful little village that housed a lot of the workers that were building the Gardiner Dam at Lake Diefenbaker. Pat absolutely loved it! Not only was he his own boss, but local people – his board and customers – were the ones that evaluated and recognized his efforts, not someone in a high-rise tower many miles away.
He finally felt his life was stable enough to start a family, so he decided to settle down and got married to his childhood sweetheart Jean on October 10th 1964. He probably had no idea that this commitment and love would last over 53 years – through many moves, difficulties, and achievements to come.
It didn't take long for the little family to get started. The first addition was Patrick Mark in 1965, a joyous celebration as he was the first grandchild on either side of the family. Pat continued to move up in the Credit Union system and was assigned the job of Manager in Bienfait in 1967, which was one of the first Credit Union branches in Saskatchewan. Bienfait was a rough and tumble mining town, so Pat would often have to personally head to the bar on paydays to make sure that the boys remembered to pay their loans before all their money ended up on the pool table. Always focused on community, Pat was also a volunteer firefighter during his time there. Next move was in 1969 to be Manager of the much larger Esterhazy Credit Union, plus the addition of two more kids, John Michael in 1970 and David Leslie Charles in 1971. Esterhazy was also where Pat joined the Kinsmen Club, which became another huge part of his life.
Pat wanted to take the next big step, so when a General Manager position opened at the Nipawin Credit Union in 1973, he applied for it immediately and was accepted.
The Nipawin Years
The move to Nipawin produced another child, Mary Elizabeth, in 1974. Lucky for Nipawin, Pat and Jean decided that there shouldn't be any more moves since they couldn't afford to have any more kids – there seemed to be quite the correlation!
Pat set to work to rebuild the Nipawin Credit Union from a tiny branch in a small provincial outpost to a large powerhouse that drove innovation in not just the Credit Union, but the entire Canadian banking system. He worked with his board of directors to set the vision for a new building for the Nipawin Credit Union and oversaw its construction. The building officially opened in 1976, and is now an anchor of the Nipawin downtown area. Always a fan of computers, Pat pushed hard to have a complete computerized banking system installed in Saskatchewan in the 1970's, so much so that they finally asked him to work on the Credit Union Technology Committee for CU Central. To many peoples delight and curiosity, Pat made sure that one of the very first ATMs ever installed in Canada was placed in the Nipawin branch. Over these years, Pat also served as a dedicated director of the Credit Union Manager's Association (CUMA) where he helped set the direction for Credit Union strategy and policy across the province.
Today, the Nipawin Credit Union has become Diamond North Credit Union, with combined assets of over $400M. Its strength is a testament to the vision of Pat, the board of directors, and the fantastic teams that worked there over the years. True to form though, Pat's proudest achievement from all his years there was the annual Santa Claus Day, a tradition that still lives on. He retired from the Nipawin Credit Union in 2000, choosing to stay a couple of extra years just to make sure that "no one else had to deal with that Y2K crap!". It was one of the only times he wasn't playing his banjo for a New Year's Eve party, so he used to joke that maybe he missed his big break because some high-end record producer didn't see him that night.
Pat loved every place he worked, and tried to enrich every area he lived in, but in Nipawin he took it to heart in the strongest way. He always believed that if you made your living from the people of the area, then you owed them your time and effort to improve it however you could. Pat embodied "Pay It Forward" long before it became such a popular idea. He volunteered for anything and everything as long as he thought it would benefit the people of Nipawin and area. No matter if he was doing the books for one of the service clubs in town, or helping to manage a multimillion dollar business, he put the same focus and attention into them all, but there were a few that stood out for him:
He was the Chairman of the Nipawin Regional Park board for over 20 years, where he worked tirelessly with many other people to add several new amenities to the park, expand the Evergreen Golf Course to 18 holes, and help envision and build the Evergreen Centre.
He worked as the Treasurer of Nipawin Minor Hockey for over 23 years, and was awarded the Builder of Sports award for his service.
He was instrumental in creating the Nipawin Region Health Foundation and served for over 20 years as the Treasurer. He oversaw the growth in assets and financial stability of the foundation to ensure the people of Nipawin could be properly served from their own local facilities.
Pat was a distinguished Kinsmen member, earning Kin of the Year three times, serving as Deputy Governor of Zone 3, and being honored with a Lifetime Membership to the Kinsmen Club of Nipawin. He loved the club and the people he met there, and was a tireless volunteer on many of the projects that the Kinsmen took on over the years.
Pat had many hobbies, including golfing, hunting, fishing, snowmobiling, curling, and playing cards – especially Bridge. That was another reason he adored this area so much – he could do everything he loved within 10 miles of his house.
Anyone that knew Pat knew he always delighted in playing a few tunes and having a few drinks, and he did that with literally thousands of different people over the years. He absolutely loved playing the banjo and singing a few tunes, and always looked for an opportunity to do so. It didn't matter if it was one person or a thousand people, he put his heart and soul into every performance. He always said that the universal language of music made instant and enduring friends in every town he visited and in every organisation he worked in.
Pat is survived by his wife Jean and sons Mark, John, David, his daughter Mary, their spouses and the many grandchildren they were blessed with. He is also survived by his brothers Don and Larry, sisters Linda and Penny, Jean's brother Ernie, Jean's sisters Joan, Patsy, and Avril, plus their spouses and all the nephews and nieces.
"Success is not dependent on a single act, an individual moment, or a single day. Success is made up of thousands of days of effort, dedication and service – in love, in family, in career, and in community."
- Pat Miskiman
Heritage Funeral Home - Nipawin
901 Nipawin Road East
​
​Mail to Box 3400
Nipawin, SK
S0E 1E0

Phone: 306-862-3979
Email Us
Tisdale Funeral Home - Tisdale
916-111th Ave
​Mail to Box 3400
Tisdale, SK
S0E 1T0


Phone: 306-873-4077
Email Us